Church doesn't refer to a building to worship God, it is the ekklesia, or the called out. It refers to a group of people who have been called out or set aside for God's purpose. We find our identity in Jesus Christ, because God who predestinated us for greatness, called us into fellowship with him, justified us through Jesus Christ's blood, and glorified us with His Son.
The Bible notes Paul saying "I have planted, Apollos watered; but God gave the increase" 1st Corinthians 3:6. Within this context, Paul referred the church, or group of believers he planted. What did he plant? The word of God. The word is the seed that has been planted in your hearts. What word is this? That you are everything that God has made you. While you may not see the fruit of this yet, you will eventually see it with time and growth. Just because an apple seed doesn't have apples, doesn't mean it is not an apple tree. Everything in an apple tree is in the apple seed. The only difference between the seed and the tree is growth.
As a community of believers, we believe that we are everything that God has made us. Not seeing the fruit of righteousness doesn't cause us to doubt that we are the righteousness of God. Just because we don't see the healing, doesn't mean we aren't healed. Just because we don't see the provisions of God doesn't mean that God won't take care of our needs or desires. We realize the seed needs to grow. Thus, we thank God in advance for the increase.
Stages of Growth
Some might refer to these different soil types as individual, independent of each other. However we see them as a

continuum.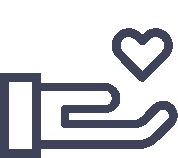 "Whoever is generous to the poor lends to the lord, and he will repay him for his deed."